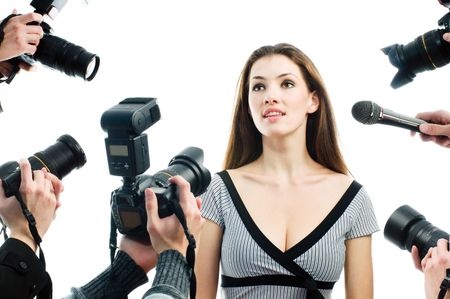 LF Targets US Hispanics: Celebrities You Wouldn't Imagine Were Latino
Ryan Lochte is the overnight success who's been around for some time. Born in upstate New York to a Cuban mother ('Ike') and German-Irish father, Lochte was raised mostly in Florida where his father was a swimming coach and where his talents blossomed.
One of the most decorated U.S. swimmers ever, Lochte's haul of five shiny medals (2 gold, 2 silver, 1 bronze), paled with the glare of lights, media attention and fans that followed his every swim, smiling interview and bare chested moment.
FROM ARGENTINA – Diana Taurasi
Voted by fans in 2011 as one of Top 15 players in WNBA history, Taurasi led the U.S. Women's Basketball team onto the medal stand at the London Olympics.
She was born and raised in California to an Argentine mother and Italian father who was raised in Argentina.
Sara Paxton is Scottish and Irish on her father's side, but her mother Lucia was born In Monterrey, Mexico.
FROM PUERTO RICO – Vanna White
Vanna White, the television personality best known as the co-host of the 'Wheel of Fortune' television show, was born in North Carolina, but she certainly has some Latino blood in her! Vanna's last name is not actually White, it's the name she took from her stepfather Herbert Stackley White Jr. Her father, Miguel Angel Rosich, was born in Ponce, Puerto Rico but abandoned Vanna and her family when she was a child.
FROM BOLIVIA AND SPAIN – Raquel Welch
Actress Raquel Welch, stole all eyes when she appeared in a skin bikini in the 1966 British adventure film "One Million Years B.C." She became the ultimate sex symbol, but what a lot of people don't know is Welch, born in Chicago, has Spanish and Latino blood in her. Her mother is English and her father is of Spanish-Bolivian descent. In 2001 she was awarded in the Imagen Foundation Lifetime Achievement Award, honoring those dedicated to encouraging and recognizing the positive portrayals of Latinos in the entertainment industry.
FROM MEXICO AND ARGENTINA – Alexis Bledel
Who would've thought that little Rory Gilmore is a Latina? But Alexis Bledel, who starred as Gilmore in the CW series "Gilmore Girls" has Latino genes coming from both sides of her family. Bledel, who was born in Houston, Texas, is daughter of a Mexican mother and an Argentinian father,according to her official bio on IMDB. Even though she pretended not to be fluent in Spanish in this Gilmore Girls' episode, Bledel's first language is in fact Spanish.
FROM CHILE – Nicole 'Snooki' Polizzi
Although Snooki became famous by playing a Jersey Shore guidette, a term which usually refers to Italians, Nicole 'Snooki' Polizzi is actually Latina. She was born in Chile but was adopted by Italian American parents, according to her bio on IMDB.
Noomi Rapace is one of Hollywood's hottest international stars. The Swedish beauty became a household name after her big breakthrough role as Lisbeth Salander in the film "The Girl With The Dragon Tattoo". What most people don't know is the actress is also part-Spanish. Rapace was born in Sweden, to a Swedish mom, actress Nina Norén and a Spanish father, flamenco dancer Rogelio Durán.
Peter Gene Hernandez, better known as Bruno Mars, was raised in Honolulu, Hawaii in a family of musicians. But the Hawaiian native has more mixed blood than you think. His father is from Puerto Rico and his mother from the Philippines. Bruno Mars became the first Latino man and the 10th gent to grace the cover of Playboy back in March.
Source: Huffington Post US Edition/latinovoices and Wikipedia.