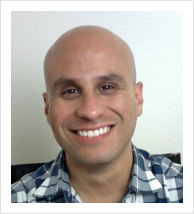 BERNARDO MÉNDEZ – VICE PRESIDENT, STRATEGY & GLOBAL INSIGHTS
Bernardo is responsible for creating and maintaining key strategic alliances with partners around the world and for ensuring consistency as a value added partner across the multiple countries where we operate through actionability in our insights.
He has over ten years of qualitative and quantitative marketing research in Latin America and five years experience in marketing for the U.S., Latin America, Europe, and Asia Pacific. Having been involved in hundreds of research projects with some of todays leading brands and research agencies, he brings both: a rigorous discipline and a practical set of skills to serve our clients and partners.
In addition to his marketing background, Bernardo has a passion for personal development that has led him to interview many inspiring Best Selling Authors, CEO's and content creators to discover what makes a practical difference in their lives that can be applied in business.
Bernardo has a B.A. from Saint Edward's University where he graduated Magna Cum Laude with a Degree in Communications and a minor in business.